Regular price
Sale price
$54,000.00
Unit price
per
Sale
Please call for price 212-354-3456.
Description

LaCloche Vintage Art Deco Diamond Colored Gemstone Pinstem Brooch

A popular ornamental motif during the Art Deco period was the giardinetto, which in Italian means "little garden." Commonly seen in the form of a brooch, but sometimes as a ring or pendant, the giardinetto depicts a vase or basket of colorful flowers with a multicolored array of gemstones such as rubies, emeralds, and sapphires. For centuries, a brooch of a giardinetto design has been the quintessential expression of personal style, as no two are the same. Few jewels combine such elegance and splendid sparkle. The design initially enjoyed popularity around 1740 to 1780 as love tokens exchanged with lovers and friends. The 1920s saw a revival of the lovely form, which is around the time when this piece was made.

This Signed LaCloche Vintage Art Deco Diamond Colored Gemstone Brooch, made in France, circa 1930 with a French assay mark, brings a sparkling geometric design punctuated with stunning bright color. The overall shape is an elongated openwork hexagon plaque oriented lengthwise, bordered with diamonds and featuring a grand urn of flowers. The single pinstem brooch, measuring 2 x 1.25 inches (50.8 x 31.75 mm), is crafted and platinum and presents a stunning array of gemstones including a shield-cut yellow diamond, two different cuts of white diamonds including circular and baguette, triangle-shape emeralds, and custom-carved ruby, citrine, sapphire, amethyst, and pink sapphire. The way the colors are arranged and the unique cuts that fit perfectly within the design make this piece something akin to opulent stained glass.

Six four-petal flowers dance in an arc above the patterned urn, opulently decorated with round diamonds, sitting on a pedestal of baguette diamonds. From left to right, the blossoms are pink sapphire, golden citrine, blue sapphire, purple amethyst, pink sapphire, and blue sapphire, with each petal held with elongated platinum prongs that bisect the carved heart-shaped lobes. Single white bezel-set diamonds adorn each floral center and six more dot the open spaces around the composition between the flowers above and lyrical leaves below. The urn is adorned with exquisite calibré-cut gemstones—a yellow diamond flanked by two emeralds, cut into triangle and shield shapes. Custom geometric cuts tightly set against one another without the use of prongs like these were paramount during the Art Deco period. The term, calibré-cut comes from the word calibration which means to divide or mark with gradations. Often calibré cuts fill a tapered row, encircle a stone, or create a flash of color as a design element to a piece.

In the 1930s Jacques LaCloche interpreted the return to natural themes in a geometric, abstracted manner with stylized flora and fauna motifs rendered in diamonds and colored gems. Despite sharing workshops with premier jewelry houses, including Boucheron, Van Cleef & Arpels, and Chaumet, LaCloche managed to maintain a unique and diverse collection of designs with unusual shapes. The skill of LaCloche, a formidable French house of fine jewels, shines in this standout colorful jewel.

Measures approx. 1" x 2". Overall weight approx. 15.17 grams, crafted in platinum. Made in France. Signed Lacloche and stamped with Franch assay; circa 1930.

SKU :P1013
Category :PINS
Metal :PLAT

View full details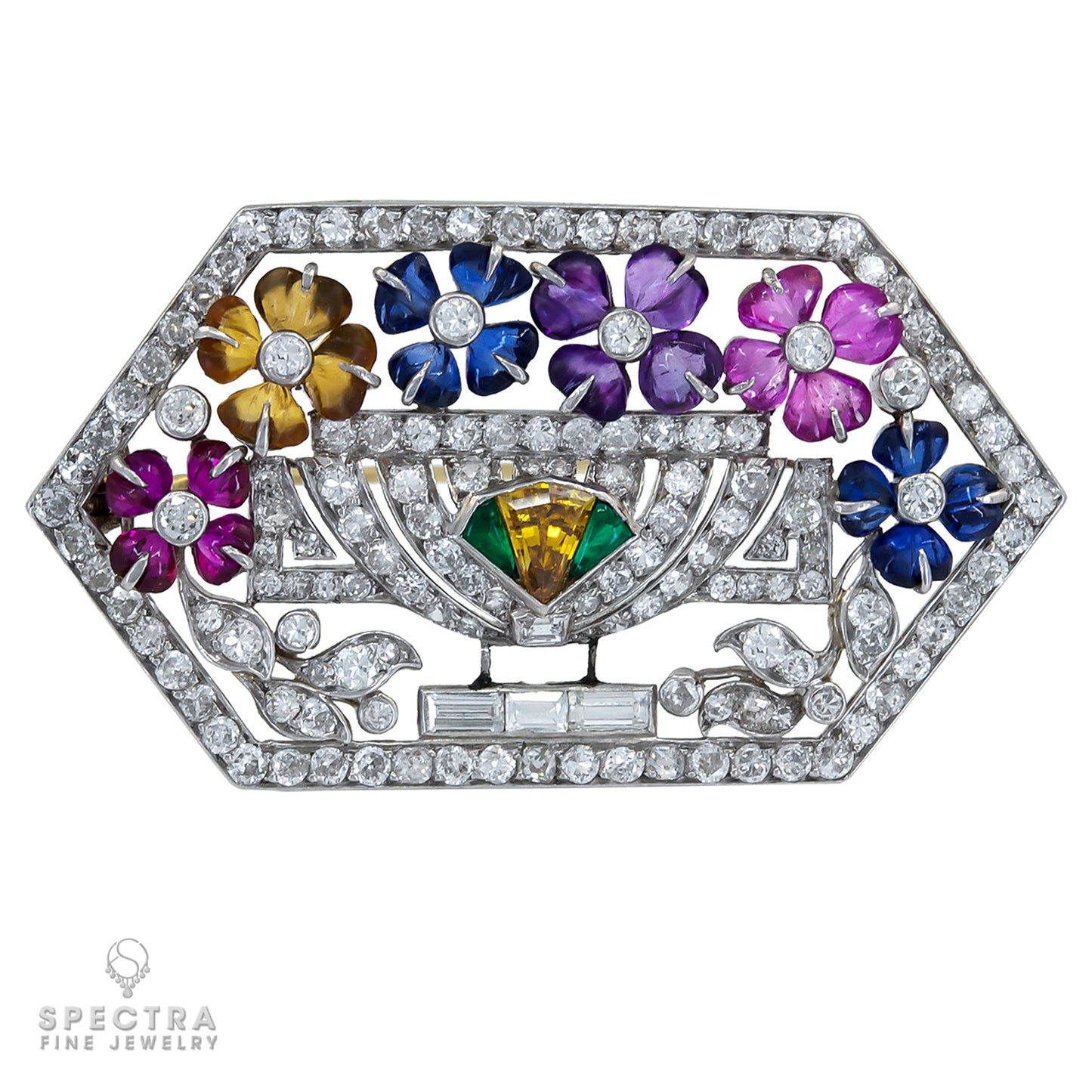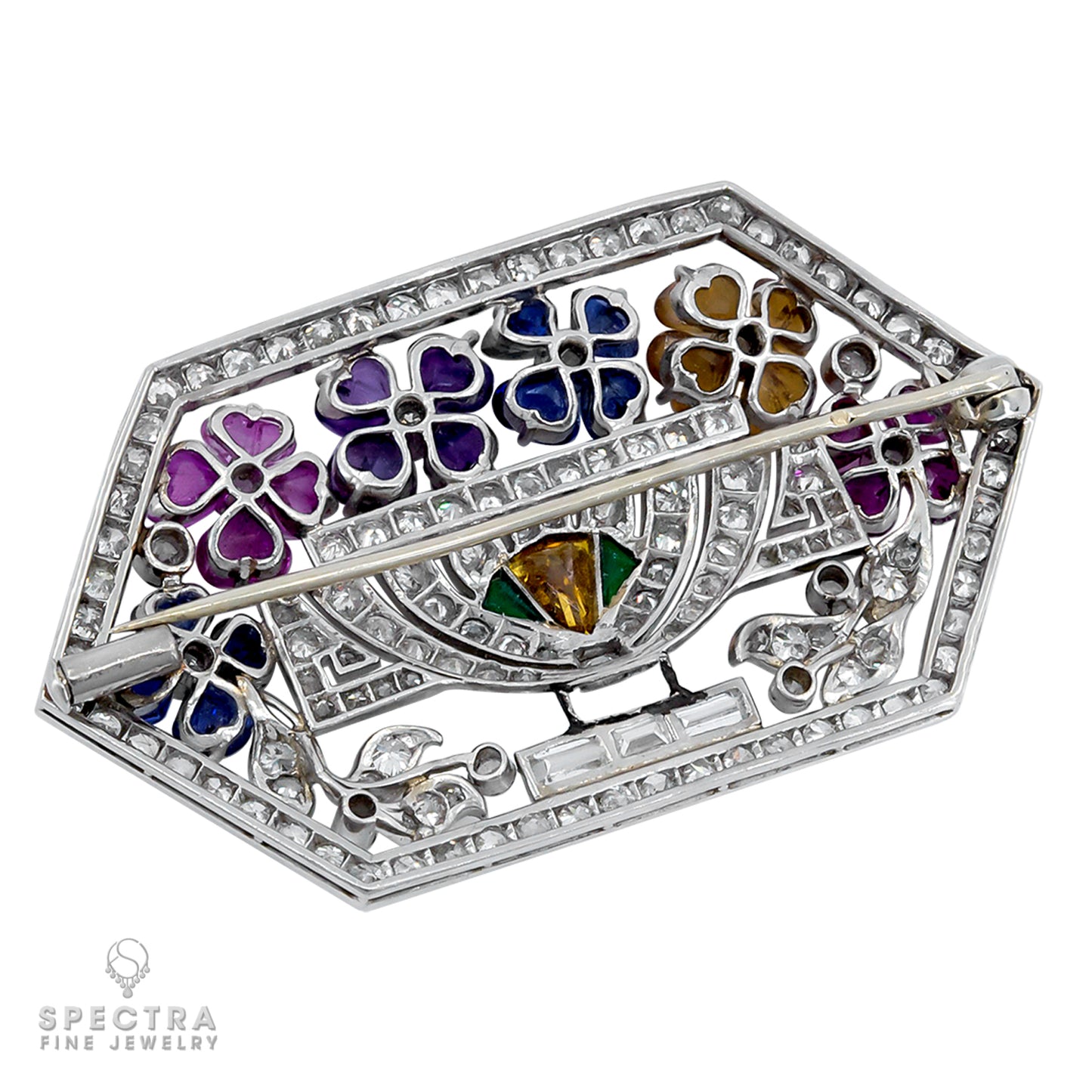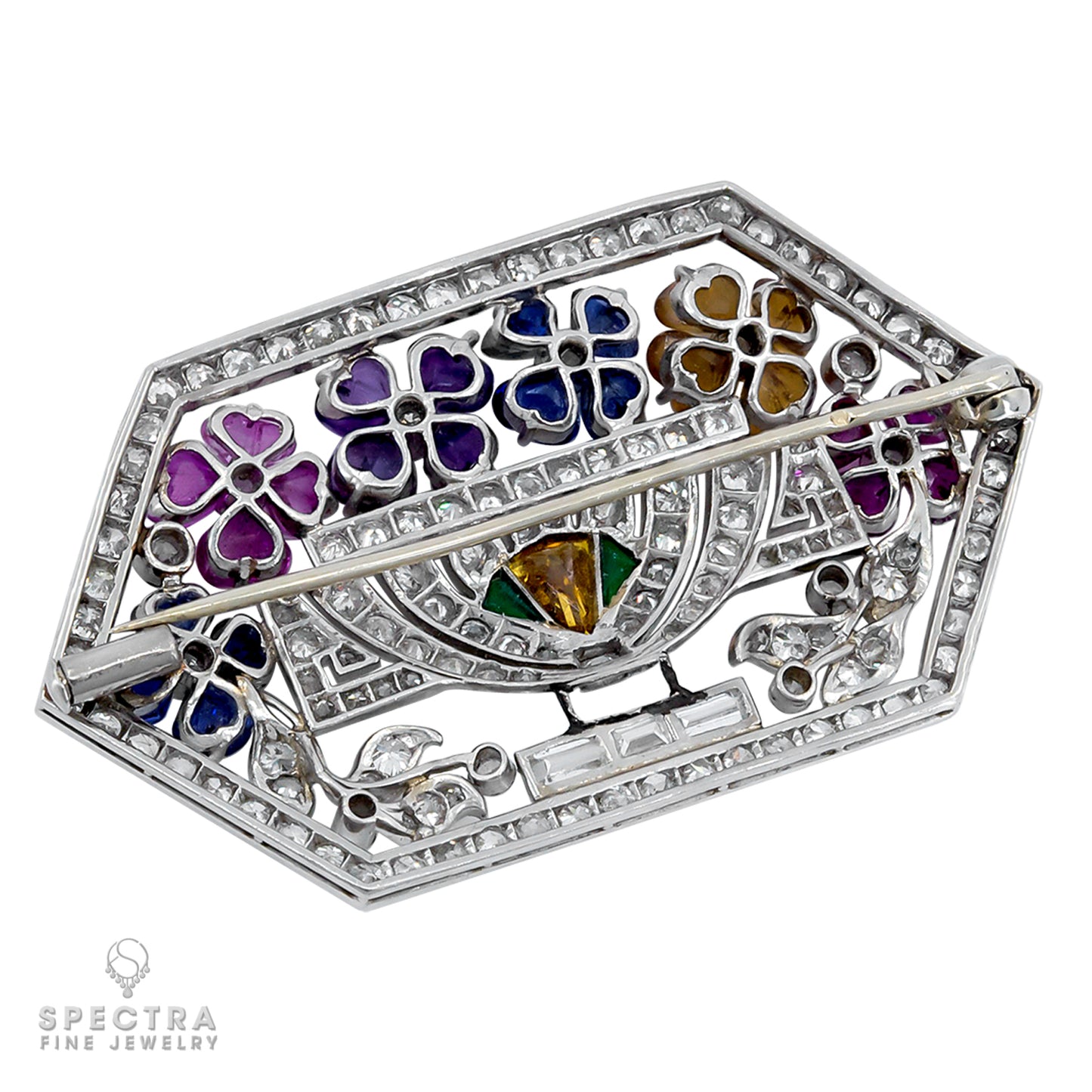 SECURE ONLINE TRANSACTIONS

Your purchase and payment details are processed securely using up-to-date encryption technology.

AUTHENTICITY GUARANTEED

All our products are 100% authentic. We'll give a full refund if you're not satisfied with our products.

CONNECT WITH US

We treat our customers as valuable as our jewelry. Have questions? Send us an email.